"Doc, how will I look after the procedure?"
In today's advanced world, every dental patient would like to visualize different treatment outcomes on their smile and their appearance before committing to any procedure.
Create realistic simulations using DTS.
DTS is a Quick and Easy-to-use, Simulation, and Digital Smile Design Software.
Generate natural smile simulations, right in the first consult or even over virtual consultation platforms, using simple photos. This goes a long way in patient motivation and decision making, eventually leading to greater case acceptance.
Using DTS PRO, design the simplest of cases involving a single tooth such as Bonding, Whitening, Gingival Recontouring, to more complex Smile Designs, Orthodontics and Full Mouth Rehabilitations.
Using DTS 3D, convert the smile designs to printable mockups, shell temps, or injectable composite guides.
Features
Realistic Natural Simulations

Facially driven Planning usings photos &/scans

Smart Interface using Artificial Intelligence

Instant Smile simulations

Lab communication module with CAD/CAM overlay

3D designs for Mockups, Temps & Injectable Composite guides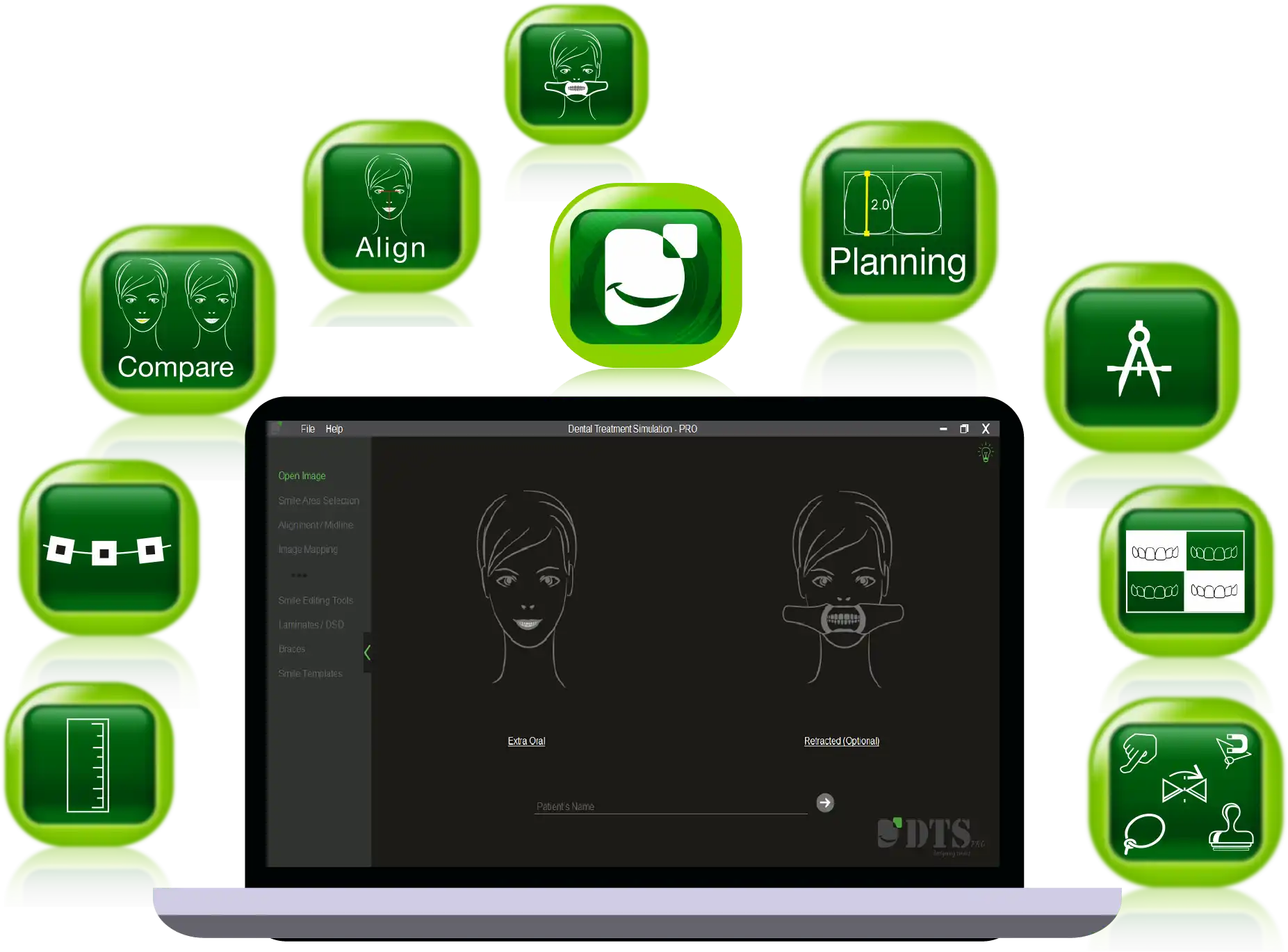 'Digitize your case presentations with DTS and take your patient experience to the next level.'
Realistic Natural Simulations
How is DTS different from other Softwares?
DTS

Other Simulation Softwares

Ease of use
-
Smart Features using AI/ML
-
Time needed for simulations
5 minutes
30 minutes
2D to 3D Smile Designs
Orthodontic Simulations
-
Case scenario
Single tooth to Full mouth planning, jaw and lip changes
Only Full mouth Smile Design
Special Training needed
-

Cost Effective

-
Pictures say a thousand words. There is no better, easy and cost effective simulation software that can convey the necessity of treatment with before and after pictures with your patients. Highly recommended.
Dr. Dhaval Patel
Practicing dentist in California, USA
Founder of KEEP CERECing
KOL for Dentsply Sirona, Ivoclar Vivadent, GC America, Kuraray Noritake

The DTS PRO- Digital Smiles Designing & Simulation software plays a big part in our case acceptance, especially for the smile makeover cases. With this innovative software you basically can simulate a perfect smile to show patients in less than 5 minutes. It is a game changer. I highly recommend this software to all the dentists who want to increase their case acceptance.
Dr. Nathan Ho
Dental Practice Owner
CEO of EnvisionStars.com

DTS PRO is by far the quickest & easiest simulation & smile designing software. I was a regular user of DSD. But once I started using DTS PRO, I never went back. My entire staff including associate dentists, treatment coordinators, & practice managers are well versed with DTS. We carry out simulations for every patient visiting our practice. I can vouch that our case acceptance has significantly increased with DTS PRO.
Dr. Deepil Mehta
MDS-Conservative,Endodontic and Esthetic Dentistry
Member, AACD

During cosmetic consultations, the most difficult part for patients to understand is the difference the proposed treatment will make to their life! DTS pro comes across as the most user-friendly software with realistic simulations in less than a few minutes.It can be mastered by in-house non dentist staff as well, saving the dentists precious chair time. Digital planning helps the dentist , his team and technician...Read more
Dr. Aslam Inamdar
Digital Smile Design Expert
Diplomate in SKIN CADCAM and Natural Restoration
Mastership in Clinical Implantology from Stony Brooks School Of Medicine, New York

DTS PRO is a revolutionary software that is allowing patients to visualize & make treatment decisions before getting into treatment. In Orthodontics, motivating a patient to start treatment can be difficult if they cannot visualize the results. Being able to sit down with a patient & show them what their smile could look like changes lives. All of this can be done chair side as the software is amazingly quick & easy...Read more
Sonya Travers
Treatment Coordinator at Gleason Orthodontics, Webster, NY, USA

By far one of the most recommended patient motivation tool. Very easy to use. The most cost effective smile design programs available across the globe. The best part about DTS PRO is it helps not only in designing full mouth smile design cases, but also simple cases like bonding, whitening, gingival changes etc.
Dr. Moez khakiani
Prosthodontist
KOL for 3M ESPE, author of "Clinical Fixed Prosthodontics"